Perdue's Blog The Table
The Pressure Cooker: Bold Flavors in Half the Time
March 2023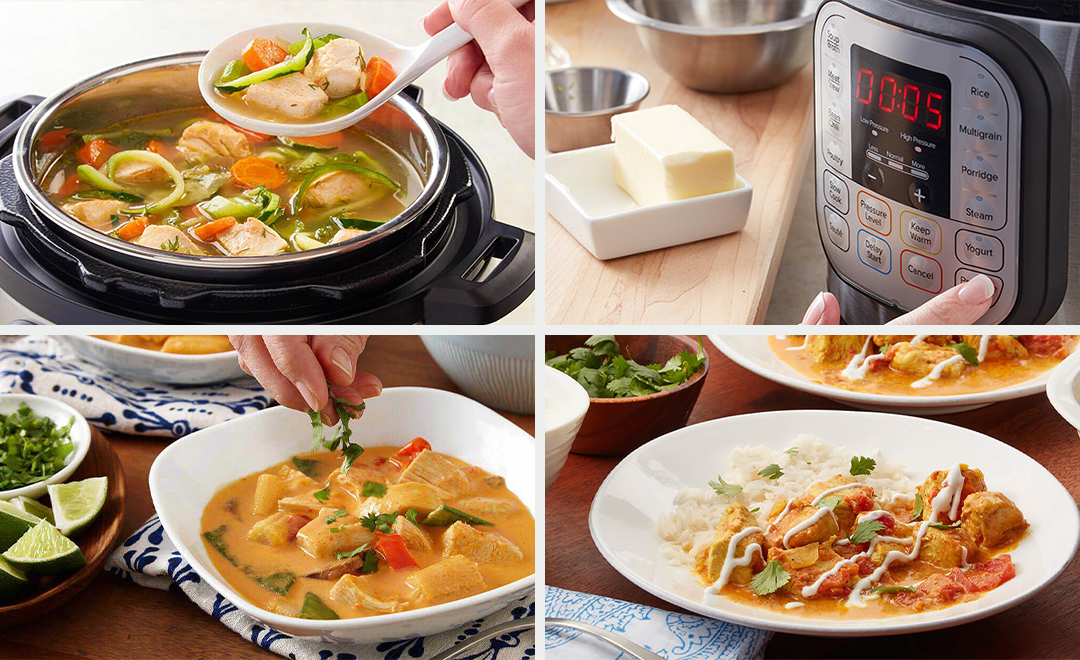 Enjoy slow-cooked dishes without the wait.
The pressure cooker has found its place in homes all around the world, using its unique sealed design to build steam and high pressure to cook tough cuts of meat and dried legumes in half the time. It's a great appliance when you don't know what to eat in the morning, but by evening you are craving a hearty roast or a rich risotto. Whether it's braising chicken thighs in red wine, speeding up a time-consuming casserole or fortifying a stock, the pressure cooker can handle just about anything. After getting familiar with the rules of the road, take some of our favorite recipes for a test run!
1. Your favorite soups in less than 30 minutes
With a cook time of less than 30 minutes, the possibility of putting your favorite chicken soup on the table has never been easier. Think of all the hours you spend watching your favorite soups slowly simmer. With the pressure cooker, you can make an unbelievable broth in the time it takes to help the kids with homework. Or maybe even taking some time for yourself. Check out these delicious recipes that will save you time but won't sacrifice flavor.
2. A whole world of possibilities
Some of our favorite dishes around the globe rarely skimp on spice and decadence but require a great deal of time to get just right. Whether it's an exciting chicken curry, a rich cassoulet or an herbaceous Central American dish, delicious food can sometimes become a waiting game. However, when cooking under pressure, these flavors are never out of reach. Take a tour around the world with these satisfying ethnic recipes that can be made in 30 minutes or less.
3. Take your cooking to the next level
We all love to impress dinner guests with something of restaurant quality within the comfort of our homes. Recipes for high-end food can sometimes become increasingly daunting, especially considering the time it takes to make a complex dish, or a recipe outside of your comfort zone. The pressure cooker is a one-pot solution to these problems and more. While cutting down on prep time, you free yourself up to engage with the family or even have an easy stay-at-home date night. So, light a candle, pour yourself a glass of wine and relish in the thought of good things to come.
Tip: Shock your guests with incredible finesse. Time to plate!
Reserve your seat at TheTable
Subscribe