PREP TIME: 0min COOK TIME: 30min
Serves 4


Ingredients
1 can cream of roasted chicken soup with savory herbs (10 3/4 ounces) or any other cream soup
1 pkg. shredded Mexican-style cheese blend (about 2 cups), divided(8 ounces)
3 cups slightly crushed corn tortilla chips, divided
1 cup mild or medium salsa
1/2 cup black ripe olive slices
2 cups whole corn tortilla chips
Step 1
In large mixing bowl, combine soup and warm water. Add chicken, 1 cup cheese and 2 cups crushed tortilla chips. Mix together and place in 7 x 9 or 9 x 9-inch greased baking dish.
Step 2
Spread salsa evenly over chicken mixture; top with remaining crushed tortilla chips and cheese. Bake in preheated 350°F oven 20 to 25 minutes, until hot and bubbly.
Step 3
To serve, place a row of whole tortilla chips down center or around edges of casserole and garnish with remaining ingredients.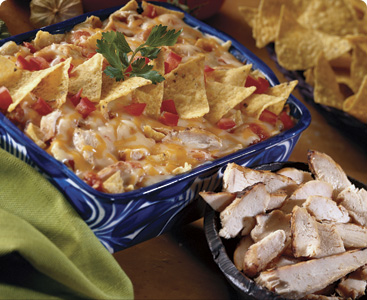 Texas Taco Bake
Add Your Comment