HOW TO: Chopping
Great Meals Start with Great Knife Skills
Toolkit

Chef's knife or Santoku-style knife
Wood cutting board for cooked chicken, vegetables, herbs
Plastic cutting board for raw chicken
Wet paper towels underneath the board for stability
What & When

A chop is a uniformly sized chunk cut used for casseroles, soups and on top of salads.
A rough chop means you can be less consistent in size; simply cut as needed.
How Big?

A chop cut is usually ½- to ¾-inch in size.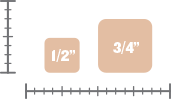 Remember:
Ensure doneness with a meat thermometer.

Refrigerate any leftover chicken or turkey immediately and use within 3-5 days.