PREP TIME: 0 min COOK TIME: 50min
Serves 6


Ingredients
2 cups sushi rice (alternate: short-grain rice)
8 sheets nori seaweed (7 1/2 inch x 8 inch sheets)
1/3 cup sesame seeds, toasted
1/2 small cucumber, peeled, seeded and cut into thin strips
1 medium avocado, peeled, pitted and cut into 1/4 inch slices
3 green onions, cut in half and sliced into thin strips
Step 1
Rinse sushi rice under cold running water 2 to 3 minutes. (Do not rinse short-grain rice). Place rice and water in a medium saucepan over high heat; bring to a boil. Reduce heat to low; cover and cook 15 minutes or until water is absorbed. Remove from heat; put rice into a large bowl and cool 10 minutes; stir every few minutes to help cool the rice. Combine rice vinegar, sugar and salt in a small bowl; stir to dissolve sugar. Add to cooled rice; stir to combine and coat each grain of rice.
Step 2
Place chicken and teriyaki sauce in a large skillet over medium heat; cook 5 minutes or until heated through. Remove from heat.
Step 3
Place a sheet of nori, shiny side down, at the bottom edge of the bamboo rolling mat (with the slats running horizontal to you). Wet your fingers, or use a small metal spatula, to spread 2/3 cups rice over the sheet, leaving a 2- inch wide strip bare across the top. Sprinkle 2 teaspoons sesame seeds over the rice. Arrange 1/8 of the chicken, cucumbers, avocados, green onions and carrots down the center of the sheet. Fold edge of mat closest to you over the filling and use pressure on the mat to help keep the roll tight until you reach the end of the sheet. Moisten the 2-inch wide strip with water; roll to seal. Repeat.
Step 4
Place each roll on a cutting board with the seam side down. Slice each roll into 8 pieces using a sharp wet knife and then into 8 (1-inch) pieces.
Step 5
Serve with pickled ginger, wasabi and teriyaki sauce, if desired.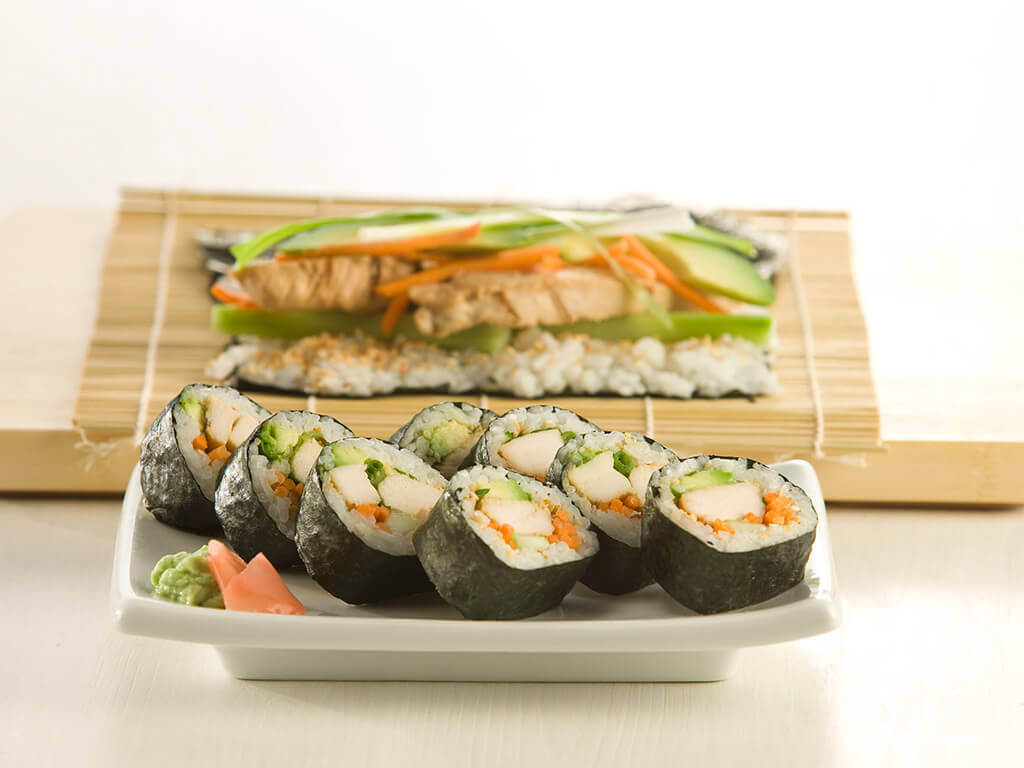 Teriyaki Chicken Rolls
Add Your Comment