PREP TIME: 10 min COOK TIME: 0min
Serves 4


Step 1
Lay out a tortilla and spread 1 tablespoon of peanut sauce down the center.
Step 2
Add ¼ cup of spinach over the tortilla. Top with Short Cuts and red bell pepper strips.
Step 3
Tuck in the ends of the tortillas and then roll tightly. Repeat to make 4 wraps.
Step 4
Assemble each Bento Box with a Wrap, ¼ cup peanut sauce and ¼ cup edamame.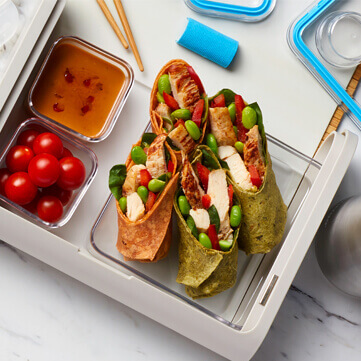 Protein Bento Box
Add Your Comment