PREP TIME: 0min COOK TIME: 15min
Serves 4


Ingredients
1 jar (6 oz.) marinated quartered artichoke hearts, drained and coarsely chopped
1/2 medium cucumber, quartered lengthwise, seeded and cut into 1/4 inch slices
1/2 cup pitted Kalamata olives, drained and halved
1/3 cup coarsely chopped red onion
1 cup coarsely crumbled feta cheese
freshly ground pepper for garnish
6 oz. (2 cups) penne pasta
1/4 cup extra-virgin olive oil
1/4 cup fresh lemon juice
1 tbsp. finely chopped fresh oregano or 1 teaspoon dried oregano
1/4 tsp. pepper, or to taste
1/8 tsp. salt, or to taste
Step 1
Cook the pasta according to package instructions.
Step 2
Meanwhile, whisk together the dressing ingredients in a large bowl. Stir in the chicken, tomatoes, artichokes, cucumber, olives, onion and feta cheese.
Step 3
When the pasta is done, drain well. Rinse with cool water; drain again. Add to the salad mixture and toss. Taste and adjust the seasoning.
Step 4
Garnish the servings with pepper.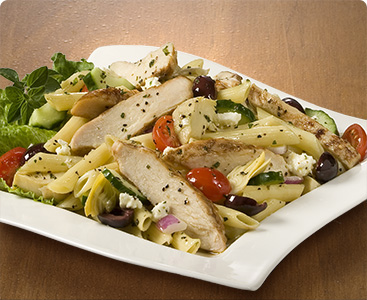 Greek Pasta and Chicken Salad
Add Your Comment