PREP TIME: 0min COOK TIME: 15min
Serves 4


Ingredients
1 medium red onion, halved lengthwise and cut into 1/2 inch wedges
1 red bell pepper, halved lengthwise and cut into 1/2 inch strips
1 can (11 oz.) mandarin oranges, drain and reserve juice
1 tbsp. firmly packed light brown sugar
2 tsp. dark Asian sesame oil
1 tbsp. finely chopped fresh ginger root
1/4 tsp. red pepper flakes, or to taste
Black sesame seeds for garnish
Step 1
Heat the oil in a 12-inch skillet over medium-high heat. Add the onion and bell pepper; cook, stirring occasionally, for 5 minutes or until crisp-tender. Reduce the heat to medium; stir in the garlic.
Step 2
Meanwhile, stir together the mandarin orange juice, brown sugar, sesame oil, gingerroot, and red pepper flakes in small bowl.
Step 3
Add the chicken and the juice mixture to the skillet. Stir occasionally for about 2 minutes or until heated through. Taste and adjust the seasoning.
Step 4
Top the servings with mandarin oranges and sprinkle with sesame seeds and serve with basmati rice.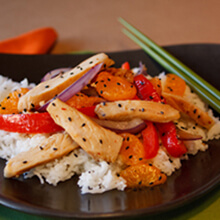 Citrus Chicken Stir-Fry
Add Your Comment