Here's What You Can Make:
Southwest Chicken Quinoa Salad:
Get more "wow" with less work when you toss this salad together.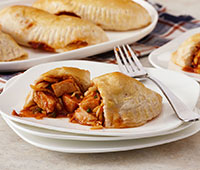 BBQ Chicken Empanadas: Empanadas go from intimidating to approachable.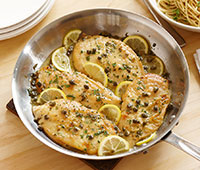 Quick and Simple Chicken Piccata: Read the recipe name. That is all.
Time-saving tip:
Buy the 26 oz. Family Sized bag of PERDUE® SHORT CUTS® chicken and use it for both the Southwest Chicken Quinoa Salad and the BBQ Chicken Empanadas.
WHAT YOU NEED:
Chicken (yum!)
Fruits and Veggies
2 Lemons
1 bunch Fresh Parsley
1 bunch Green Onions
1 Jalapeño Pepper
1 small Red Bell Pepper
Dairy
1 stick Unsalted Butter
1 (16.3 oz.) can Jumbo Refrigerated Biscuits
Random stuff
1 (32 oz.) container Chicken Stock
1 small jar Brined Capers
1 small bottle BBQ Sauce
1 cup Quinoa
Things you probably already have on hand
Olive Oil
Salt
Black Pepper
Flour
1 Egg
White Wine