Enjoy classic roast chicken done right.

Toolkit
Shallow roasting pan, cast iron skillet or glass oven dish
Butcher's twine for trussing
Basting brush, bulb baster or large spoon
Meat thermometer
Cooling rack
Carving board with gutter
Carving knife and fork
Paper towels

Setup
Position the oven rack in the bottom third of the oven.
Pre-heat oven for 15 minutes.
Remove neck and giblets from cavity.
If stuffing, tie legs together and fold wings under.
Season skin and/or add stuffing or aromatics to the cavity. Stuff loosely, about ¾ cup stuffing per pound of chicken or turkey.
Save time by roasting root vegetables alongside or under the chicken or turkey.
Baste regularly with pan juices.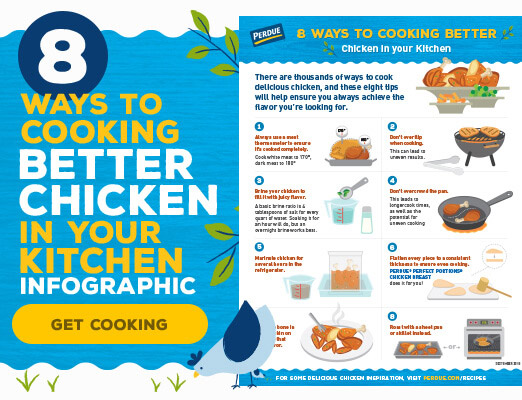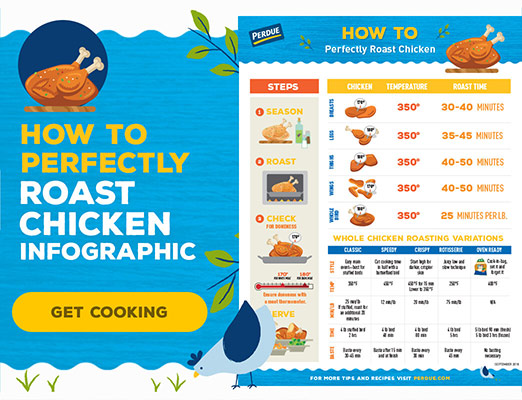 Timing & Techniques
CHICKEN
Rotisserie
Oven Ready
Classic
Crispy
Speedy
Juicy low and slow technique
Cook-in-bag, set it and forget it
Easy main event—best for stuffed birds
Start high for darker, crispier skin
Cut cooking time in half with a

 

butterflied bird
250°F
Preheat at 400°F
Lower to 350°F to cook
350°F
450°F for 15 min
Lower to 350°F
450°F
75 min/lb
N/A
25 min/lb
If stuffed, roast for an additional 20 minutes
20 min/lb
12 min/lb
4 lb bird
5 hrs
5 lb bird 130 min (fresh)
5 lb bird 4 hrs (frozen)
4 lb stuffed bird
2 hrs
4 lb bird
80 min
4 lb bird
48 min
Baste every 45 min
No basting necessary
Baste every 30-45 min
Baste every 30 min
Baste after 15 min and at finish
TURKEY
Turkey Weight
Cooking Temperature
Approx. Cooking Time
8 to 12 pound unstuffed turkey
325°F
2 ½ - 3 ½ hours
12 to 18 pound unstuffed turkey
325°F
2 ½ - 3 ½ hours
18 to 20 pound unstuffed turkey
325°F
4 - 6 hours
20 to 24 pound unstuffed turkey
325°F
4 ½ - 6 hours
TURKEY BREAST WEIGHT
8 to 12 pound unstuffed turkey
325°F
1 ¼ - 1 ¾ hours
Set it and forget it with PERDUE® Oven Ready Whole Seasoned Roasters, ideal for 6 to 8 people.
If roasting parts instead of a whole bird, check out our Cooking with Parts page.
To retain juices, rest the roasted bird for 10 to 15 minutes on a cooling rack before carving.
Ensure safe stuffing by cooking to at least 165°F

Remember

Ensure doneness with a meat thermometer.
Refrigerate any leftover chicken or turkey immediately and use within 3-5 days.

More How-Tos
View More