Precision leads to perfection.

Toolkit
Chef's knife
Santoku-style knife
Wooden cutting board for cooked chicken, vegetables, herbs
Plastic cutting board for raw chicken
Wet paper towels underneath the board for stability

Dice
Small, uniformly sized squares.
Great for sautéing flavor bases.
Helps ingredients spread throughout a salad or a sauce.
Approximately ¼ to ½-inch on all sides.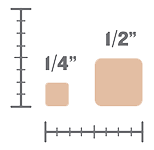 Mince
Tiny cut used most often for herbs and savories like garlic and onion.
Ensures flavor spreads evenly thoughout a dish.
Approximately 1⁄16-inch cuts.


Remember

Ensure doneness with a meat thermometer.
Refrigerate any leftover chicken or turkey immediately and use within 3-5 days.

More How-Tos
View More