Extremely easy. Extremely tasty. Extremely cute. These deliciously festive appetizers will help you get a head start on enjoying your holiday party.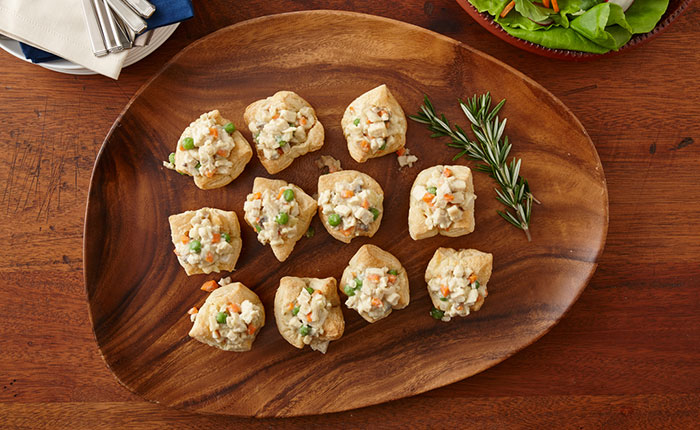 Up Your App Game with
3

Super-Tasty

Starters
The Meals: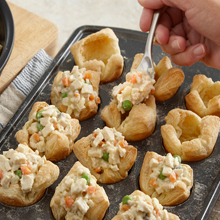 Mini Chicken Pot Pies: Warm and delicious chicken pot pie. No knife or fork required.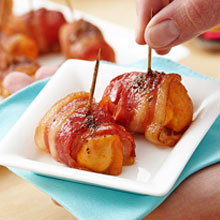 Sriracha Chicken and Brown Sugar Bacon Bites: Spicy. Savory. Sweet. A flavor combination so beautiful, your taste buds will cry.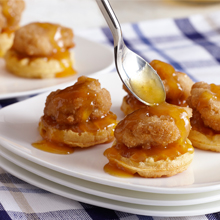 Buttermilk Chicken and Waffle Bites: If bite-sized chicken and waffle bites are wrong, we don't want to be right.
Things You Need to Know:
Use PERDUE® FIT and EASY® Boneless, Skinless Chicken Breasts for the Chicken Pot Pie Bites and the Sriracha Chicken and Brown Sugar Bacon Bites
You can substitute plain greek yogurt for sour cream in your Chicken Pot Pie Bites
Use PERDUE® SIMPLY SMART® Lightly Breaded Chicken Chunks for the Buttermilk Chicken and Waffle Bites
You can substitute regular black pepper for coarse black pepper in your Sriracha Chicken and Brown Sugar Bacon Bites
You can substitute orange marmalade for peach preserves in your Buttermilk Chicken and Waffle Bites
Here's Your Shopping List:
Chicken (the best part)
Fruits and veggies
1 onion
1 bunch carrots
1 box mushrooms
Dairy
1 quart milk
1 (8-oz.) container sour cream
Meat
Freezer
1 bag frozen peas
1 box frozen puff pastry
1 package mini waffles
Random stuff
1 (32-oz.) carton chicken stock
1 (8-oz.) jar peach preserves
1 small container orange juice
Things you probably already have on hand
Olive oil
Salt
Black pepper
Butter
Flour
Sriracha hot sauce
Dark brown sugar
Dijon mustard
Honey
Lemon juice