You need more brunch in your life. It's that simple. Use this list of <15 ingredients (hey, express lane!) and three incredibly easy recipes to make it happen.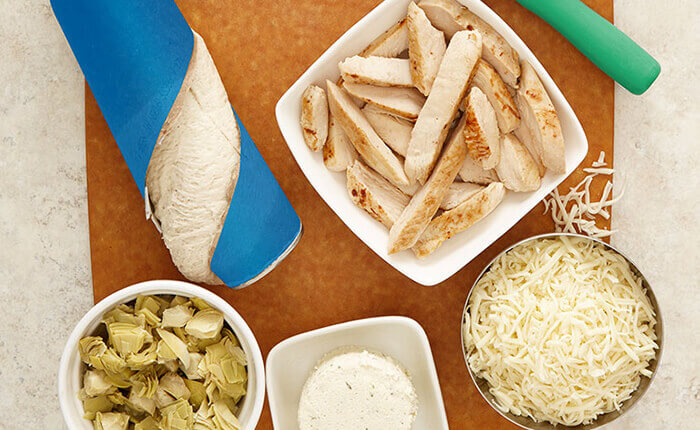 Turn These 15 Items Into 3
Epic Brunch

Recipes
What You Can Make: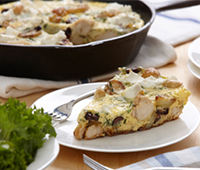 Chicken Frittata with Kalamata Olives: It's light. It's fluffy. It's savory. It's cheesy. Before you know it, it's gone.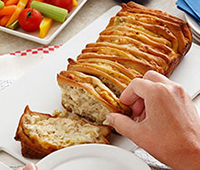 Cheesy Herb and Artichoke Chicken Pull Apart Bread: So many layers of cheesy goodness.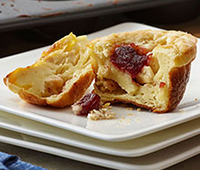 Orange Cranberry and Chicken Breakfast Popovers: Have one. Have seven. You are in control of your delicious brunch destiny.
What You Need:
Chicken (yum!)
Fruits and veggies
1 Medium Onion
1/4 pound Fingerling Potatoes
1 Orange
Dairy
1 dozen Large Eggs
1/2 gallon Milk
3 ounces Goat Cheese
2 cups Shredded Mozzarella
2 packages Boursin-style Garlic and Herb Cheese
1 cup Parmesan Cheese
1 can Refrigerated Pizza Dough
Random stuff
1/4 cup Kalamata Olives
1/2 cup Artichoke Hearts
1 can Cranberry Sauce
Things you probably already have on hand
Olive Oil
Salt
Black Pepper
Flour
Unsalted Butter
Dried or Fresh Dill
Dried or Fresh Thyme
Dried or Fresh Parsley