Chicken dip doesn't have to be loaded with fat and calories to taste like it's loaded with fat and calories. Use this super-easy base recipe and experiment with some variations for indulgent-tasting dips you don't have to feel guilty about eating.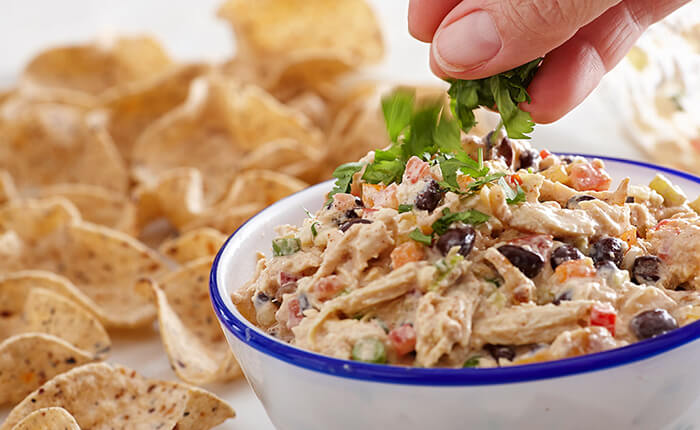 4

Easy

Chicken Dips That Taste Amazing
Dip Base:
Mix together cream cheese and Greek yogurt until completely blended and smooth. Mix in chicken.
Variations:
Mix all ingredients into dip base, stir well and place in an oven-proof dish. Bake in preheated 350°F oven for 20 minutes or until bubbly.
Chesapeake  Chicken Dip
2 Tbsp grated Parmesan cheese
2 tsp Old Bay or other seafood seasoning
1 tsp fresh lemon juice
Serve with baguette slices
Chili Cheese  Chicken Dip
½ cup shredded sharp Cheddar cheese
2 tsp chili powder
Dash of garlic powder
¼ tsp sea salt
2 minced green onions
Serve with tortilla chips and red, yellow and green bell pepper strips
Buffalo  Chicken Dip
½ cup crumbled blue cheese
½ cup Buffalo wing sauce (or to taste)
2 ribs diced celery
Serve with celery, carrot sticks, bread and crackers
Florentine  Chicken Dip
1-10 oz package frozen spinach, thawed and squeezed dry
1 clove garlic, crushed
Several good grinds of fresh black pepper
2 Tbsp grated Parmesan cheese
½ cup part-skim shredded mozzarella cheese
Serve with pita chips, Melba toast or baguette