In a sandwich. In a wrap. Atop a bed of crispy lettuce. On a spoon. No matter how you eat it, chicken salad is simply amazing. Use these recipes for some delicious, beyond-basic takes on chicken salad.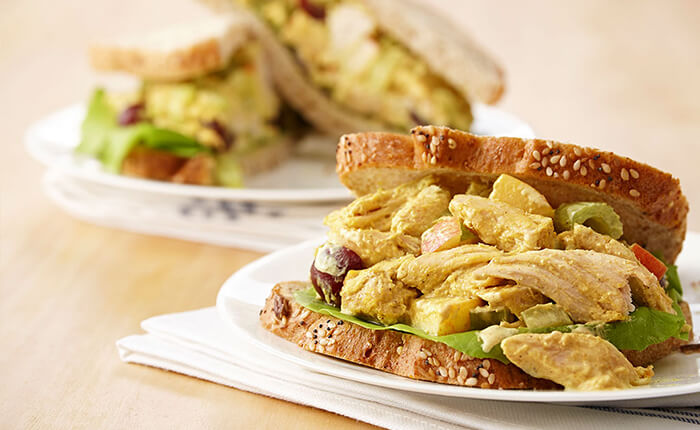 5

Phenomenal

Ways to Upgrade Your Chicken Salad
Apple Curry  Chicken Salad
1 small crisp apple, diced
1 tsp curry powder
1 green onion, chopped
P.S. If you have extra apples on hand, check out an extended version of this Apple Curry Chicken Salad, and try this crispy-crunchy Apple Cran Chicken Salad. Yum!
Basic  Chicken Salad
2 cups chopped and shredded chicken
¼ cup mayonnaise
¼ cup plain non-fat or low-fat Greek yogurt
¼ tsp salt
Mix together all ingredients well, then add any of the flavorings below.
Dilly Pickle  Chicken Salad
2 spears Kosher dill pickle, chopped
2 tbsp finely chopped onion
1 tsp dill
A few grinds of black pepper
Provençal  Chicken Salad
1 tsp Herbes de Provence
¼ cup sliced almonds
Spicy Mexican Chicken Salad
2–4 tsp jalapeño peppers, seeded and finely chopped (add more or less according to taste)
1 tsp chili powder
¼ cup chopped red bell pepper
2 green onions, chopped