Perdue's Blog The Table
Host an Amazing Party for the Big Game
January 2023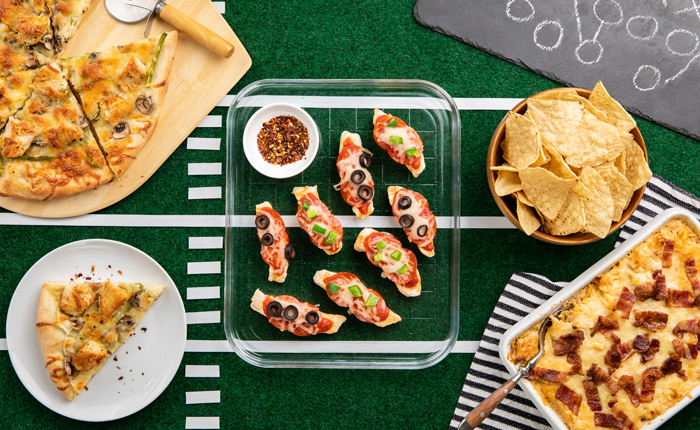 The culmination of football season is a spirited American tradition. It's also the once-a-year opportunity we can snack all-day in front of the TV guilt free! So, paint your face, plan out your bathroom breaks (um, you can't miss those commercials) and cheer on your favorite team.
Here are a few tips for how to host an amazing party for the big game.
Guest List
The more the merrier, but make sure you can seat everyone with a clear view of the TV. Don't invite 50 people if you have room for only 15.
If friends ask whether they can bring something…don't be afraid to say YES! Most people would like to help out, and by giving them specific items to bring, you don't end up with 12 bags of corn chips and no guacamole. If you have the menu planned, then ask guests to bring wine, beer or soda.
Have a pregame show. Ask a couple of close friends to come over early and help with the setup. This way, you can spend time with them before other guests arrive while getting help moving those tables and chairs.
Plan the Menu
Choose easy-to-eat, finger-friendly foods…think foods to eat while holding a beer. But you can also serve a one-pot meal, such as chili or gumbo, at halftime.
Now is the time to get creative with your menu. Try a new twist on classic recipes such as:
Don't lay all of the food out at once. Start with chips and Creamy Buffalo Chicken Dip, and then add more to the snack area every quarter. Work your way up through the Sriracha Chicken and Brown Sugar Bacon Bites and on to the Chicken Celebration Sliders. Around the fourth quarter, bring out the sweets…for a sweet victorious ending to the party.
Have a selection of beers to reflect the two competing teams, either by label color or region.
If using plastic glasses, use magic markers to label whose glass is whose.
The Setup
Get rid of the clutter to make plenty of space for a crowd. No one wants to feel like a sardine.
Have lots of floor pillows for those who just can't sit still or want to be closer to the food.
Make sure all of the seating is facing or in view of the television. That way, no one misses that winning touchdown.
Place snacks in strategic spots around the seating so people can reach them easily from any seat.
Position trash receptacles around the room so people can toss their empties and not leave them on the floor.
People love to wander, especially during a close game. If you have multiple televisions…turn them on! That way, people can keep up with the score no matter what room they are in.
Decorate with team colors. Put up banners or team-colored table decorations. Place colored pom-poms around for fans to use while cheering on their favorite teams.
Games
Have a football pool. Create or print out a big board with a 100-square grid. Write one team name across the top and the other team name down the side. Have participants place their name in the squares of their choice until the grid is full. Once it is full, randomly draw numbers from 1–10 to write across the top and down the side of the grid. The winners are the squares that intersect with the last digit of each team's score at the end of each quarter.
Rate your favorite commercials. Pass out cards for everyone to write their comments. See which commercials get the most votes.
Have foam rubber footballs for people to throw around without knocking over your favorite lamp.
Make commercial bingo cards. Instead of numbers, fill in the squares with commercial topics, celebrities or brands. Cross them off when the commercial comes up.
Reserve your seat at TheTable
Subscribe