Perdue's Blog The Table
Say "I Love You" with a Chicken Bouquet
February 2023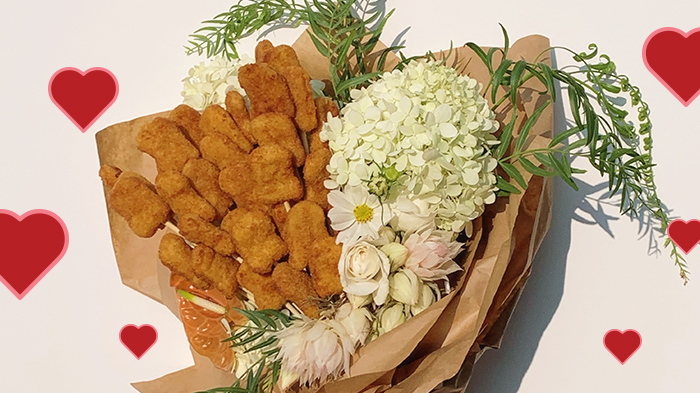 Here's how to make this Valentine's Day super romantic and super delicious:
Pick your chicken.
In a rush to find the one? Try our convenient ready-to-eat chicken wings and nuggets for fast flavor.
You can't choose whom you love. But you can choose your chicken bouquet recipe.
Here's what you'll need:
Wooden skewers
PERDUE® Chicken Wings or Nuggets
Parchment or tissue paper
Red or pink ribbon
Scissors to cut the skewers into different sizes (so they are not the same height)
Tape (optional)
Vase (optional)
Step 1:
Cook the chicken according to package or recipe instructions. While the chicken is cooking, cut the skewers into different sizes so the height will vary per chicken skewer.
Step 2:
Let the chicken cool until able to handle. Once the chicken has cooled, skewer the chicken pieces. Complete this until all pieces are skewered.
Step 3:
Place the skewers on top of the parchment paper and arrange them to resemble a flower bouquet.
Step 4:
Wrap your ribbon around the parchment paper and tie it tightly into a bow.
Step 5:
Deliver your special gift. Be sure to have tissues (or wet wipes) ready to go.
It's time to get cooking—because if you don't make your Valentine a chicken bouquet, someone else will.
Reserve your seat at TheTable
Subscribe