Perdue's Blog The Table
Fan Favorites for the Big Game
February 2023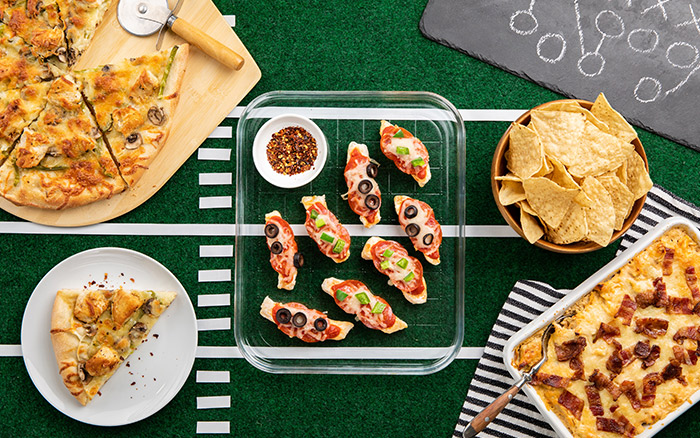 Finding original recipes to serve on game day can feel like its own kind of competition, especially if you're the only one cooking. We want you to be able to enjoy the game, too, so we've put together these exciting and easy versions of game day classics.
PERDUE® SHORT CUTS® Roasted Chicken Strips makes recipe prep easy for this take-and-bake Buffalo chicken dip topped with crispy bacon and an indulgent layer of melted Cheddar.
Move over, pizza bites—there's a new snack in town. Meet PerduZas, which combine the juicy joy of a PERDUE® FRESH CUTS® Chicken Breast Strip with pizza toppings (get as creative as you want or stick to the classics) to make an appetizer that's sure to please a crowd.
Up your classic bruschetta game by bringing some protein to the table—perfectly cooked PERDUE® PERFECT PORTIONS® Boneless Skinless Chicken Breasts covered in herby Italian seasoning bring new levels of flavor to this hors d'oeuvre.
Grilled Chicken Arugula Salad Wrap
Game day recipes can sometimes feel like cheese piled on cheese—not that we're objecting, but it's nice to have a lighter option. These wraps highlight tender chicken alongside spicy arugula, creamy avocado and fresh tomatoes. A mustardy sauce brings it all together for a perfect handheld snack.
Buffalo Chicken Crescent Wreath
Pull-apart breads are a casual take on canapés that everyone can get behind. This one features
PERDUE® FRESH CUTS® Diced Chicken Breast for extra easy assembly, and a delicious double-cheese, garlicky chicken filling that's near impossible to resist—so don't be afraid to pull a piece (or a few) for yourself before it's all gone!
Sheet Pan Chicken Cheese Steak Pizza
Rethink the cheese steak with this pizza topped with seared chicken, sweet bell peppers and mushrooms, and covered in your favorite cheese. The best bit? It all comes together on one sheet tray for minimal mess and maximum deliciousness.
Reserve your seat at TheTable
Subscribe