PREP TIME: 0 min COOK TIME: 10min
Serves 4


Ingredients
6 cups torn romaine lettuce leaves
1/2 cucumber, halved lengthwise and cut into 1/4-inch slices
1/2 cup coarsely chopped red onion
1/2 cup coarsely chopped fresh basil leaves
1 (4 oz.) package coarsely crumbled feta cheese, divided
1/2 cup halved pitted kalamata olives, divided
freshly ground pepper to taste
1/3 cup extra-virgin olive oil
1/4 cup fresh lemon juice
1 tbsp. finely chopped fresh oregano or 1/2 teaspoon dried oregano
1 tsp. finely chopped garlic
1/8 tsp. salt, or to taste
Step 1
To make the vinaigrette, whisk together the olive oil and lemon juice in a small bowl. Add the remaining ingredients and whisk again. Set aside.

TIP
TIP: Recipe by Paulette Mitchell.
Step 2
Put the lettuce in a large bowl. Add the chicken, cucumber, tomatoes, onion, basil, 1/2 cup of the feta cheese, and 1/4 cup of the olives. Just before serving, add the vinaigrette and toss. Taste and adjust the seasoning.
Step 3
Divide the salad between four salad bowls. Top the servings with the remaining feta cheese and olives, and sprinkle with freshly ground pepper.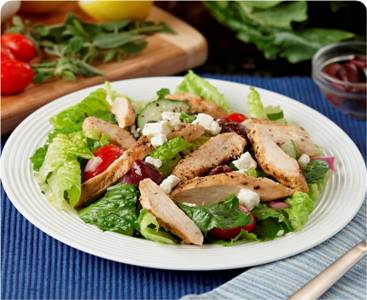 Greek Tomato and Feta Salad with Chicken and Lemon-Oregano Vinaigrette
Add Your Comment