PREP TIME: 0min COOK TIME: 30min
Serves 10


Ingredients
1 tbsp. Extra Virgin Olive Oil
1 large yellow onion, finely chopped (about 2 cups)
1 Jalapeño Pepper, finely chopped (optional)
1 tbsp. Minced Garlic or 5 cloves fresh garlic, finely chopped
2 cans Low Sodium Black Beans, drained and rinsed or Black Beans
3 cups cooked Canilla Extra Long Grain Rice
2 1/2 cups shredded sharp cheddar cheese
3 scallions, finely chopped
3 tbsp. fresh cilantro, chopped
10 10-inch Flour Tortillas, warmed
Step 1
Heat oil in medium saucepan over medium-high heat. Add onions, cook until soft and translucent, about 7 minutes. Stir in jalapeño pepper, garlic and cumin; cook until fragrant, about 30 seconds more. Add the chicken and drained beans to saucepan and cook, stirring constantly, about 5 minutes.

TIP
TIP: For a fun twist, skip the tortilla and just make your burrito in a bowl!
Step 2
To assemble burritos, mound rice, chicken and bean mixture, cheese, chopped scallions and cilantro on one side of tortilla. Roll up tortilla into burrito shape. Place burrito, seam-side down on serving plate or platter. Repeat with remaining ingredients.
Step 3
Serve burritos with salsa, sour cream and guacamole, if desired.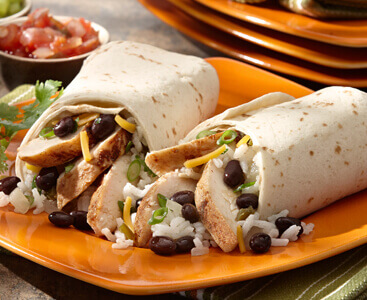 Chicken and Black Bean Burritos
Add Your Comment