APPROVED

AND THEN SOME
All chicken is inspected by the USDA, but Perdue asked the USDA to go even further — in our hatcheries, our feed mills and the family farms where our chickens are raised. The USDA verifies that all our chickens are fed a 100% vegetarian diet, with no animal by-products, and cared for in a clean, safe environment.
Doing the right thing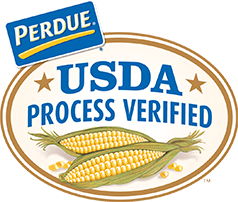 To give you the assurance you want regarding how our chicken is raised, fed and processed, we work directly with the USDA to create verification programs to address these areas.
THE PROCESS VERIFIED PROGRAM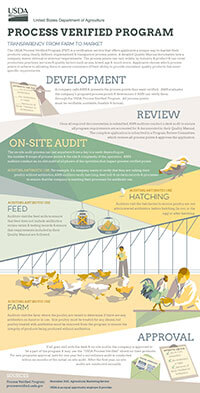 Perdue was the first chicken company to receive the USDA Process Verified seal, letting consumers know that we meet specific quality standards on a consistent and ongoing basis as verified by the USDA and independent third-party audits. These audits include reviews and validation of our documented quality management system. Upon acceptance by the USDA, we can market this certification process as USDA Process Verified.
WHAT THE SEAL MEANS
The USDA Process Verified seal lets you know that PERDUE® Fresh All-Natural Chicken has been:
Raised without cages
Fed an all-vegetarian diet with no animal by-products
Labeled with our Signature Tenderness Guarantee on selected products
When you see the seal, you know that we've gone above and beyond to help you feel even better about the chicken you're eating.