Keep Your chicken fresh, flavorful, and safe.

Freezing
Refrigerate or freeze poultry quickly after purchase, ideally within a half hour.
In the freezer, pack foods tightly so items can keep each other cold.
Seal packages well before freezing. After sealing, clearly identify them and mark with a date
Keep your freezer at 0°F and the refrigerator at 36°F. Check temperatures regularly with a thermometer.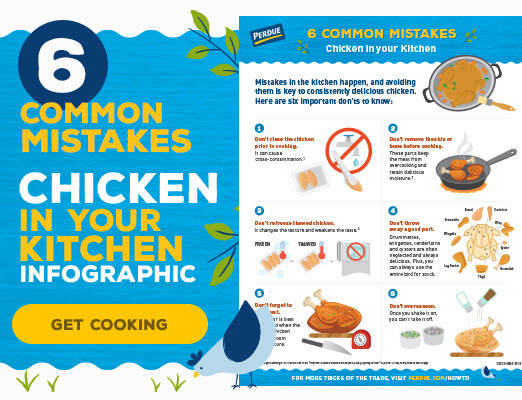 Thawing
You can thaw by immersing packaged poultry in cold water, making sure to change the water every half hour.
Defrost in the refrigerator, not on the counter, allowing a few hours to a full day, depending on size. A safe guideline is to allow five hours per pound.
When defrosting poultry in the refrigerator, make sure to put it on the bottom shelf in the back of the fridge.
Always cook poultry the day it completely thaws. Never re-freeze thawed poultry. Use it or throw it out.
You don't need to defrost poultry before cooking. Just multiply the recommended cooking time by 1½.

How Long Will it Last in the Freezer?
Fully Cooked Products

Breaded nuggets, tenderloins, strips, bites, and cutlets

Up to 6 months

PERDUE® SHORT CUTS® carved chicken or Turkey breast strips

Up to 6 months

Turkey meatballs

Up to 6 months
Ready-to-Cook Products

Whole Chicken and Whole Turkey or parts

12 months

PERDUE® OVEN STUFFER® Roaster

12 months

PERDUE® OVEN READY Roaster

6 months

Liver or other giblets

2-3 months

PERDUE® PERFECT PORTION® Chicken

6 months

Ground Chicken, Turkey & Sausage

2-3 months

Remember

Ensure doneness with a meat thermometer.
Refrigerate any leftover chicken or turkey immediately and use within 3-5 days.

More How-Tos
View More