Master the first step in good presentation.

Toolkit
Chef's knife or carving knife
Carving fork
Cutting board
Serving platter
Paper towels

Let it Rest
Give a roasted bird 10-15 minutes at room temperature:

To ensure peak flavor by letting the juices settle back into the chicken or turkey. Carve too soon and they'll run out.
So that it cools off enough to handle.

The wait is worth it when you treat yourself to the "oysters," tender chunks of meat tucked behind each thigh.

Parts Chart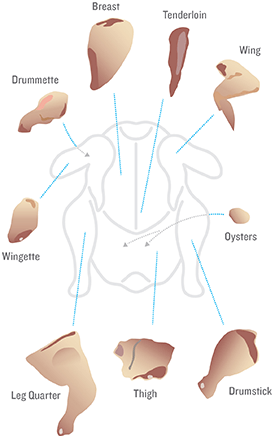 Remember

Ensure doneness with a meat thermometer.
Refrigerate any leftover chicken or turkey immediately and use within 3-5 days.

More How-Tos
View More